Get your coffee fix!
Tornado Jonez subscription plans deliver the most fresh, micro-roasted right to your door every month. Below are the intervals provided for each coffee product. Each interval will create an order automatically, and we'll charge and ship at that time. it's easy to change and cancel at any time by logging in to your account, or call or email us directly.
From this page, scroll down, select coffee product by clicking the "shop now" button.
-->select "ground" or "whole bean"
-->click "subscribe"
-->select the interval (circle button)
-->click "add to cart".
Complete checkout and we'll get you started.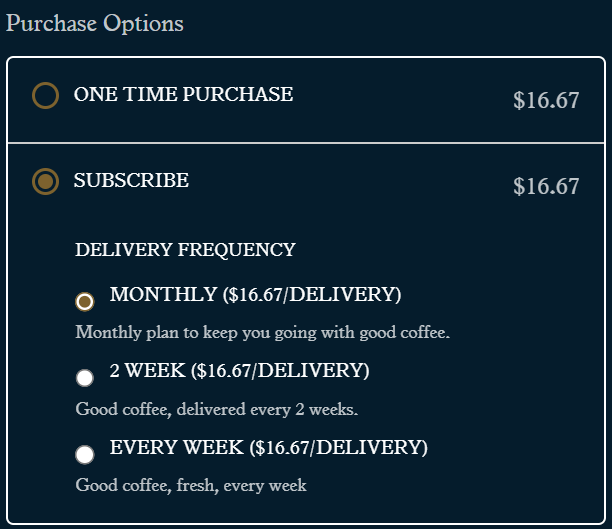 Subscriptions can also be completed from the product pages.

Championship Blend
Medium Roast- Our favorite blend inspired by our favorite horse.
Tasting Notes: Chocolate - Black Cherry - Brown Sugar - Almond
Shop Now
Cowboy Blend
Dark Roast- For all the true Texas Cowboys.
Tasting Notes: Milk Chocolate - Almond - Graham Cracker - Citrus
Shop Now
Performance Blend
Light Roast- Our smooth blend that we enjoy straight black.
Tasting Notes: Strawberry - Dried Fruit - Rose - Green Tea
Shop Now